Regular price
$4,996.00 USD
Regular price
Sale price
$4,996.00 USD
Unit price
per
Sale
Sold out
🌟 Upgrade Your Home Comfort with a Brand New Rheem Package Unit - Financing Available! 🌟
Is it time to transform your home's climate control with the latest in HVAC technology? Look no further than the innovative Rheem Package Unit. Experience ultimate comfort with flexible financing options.
🌬️ Discover the Advantages: 🌬️
✅ All-in-One Convenience: The Rheem Package Unit combines heating and cooling in one efficient, space-saving system, simplifying your HVAC setup.
✅ Energy Efficiency: Enjoy lower energy bills as Rheem's high-efficiency unit conserves power, saving you money while reducing your environmental impact.
✅ Reliable Performance: Trust in Rheem's legacy of quality and durability, ensuring your comfort is guaranteed for years to come.
💰 Flexible Financing Options: 💰
We understand that upgrading your HVAC system is an important investment. That's why we offer flexible financing options to make the Rheem Package Unit an affordable solution for your home.
✅ Low Monthly Payments: Spread the cost over time with affordable monthly payments tailored to your budget.
✅ No Hidden Fees: Transparent financing terms mean you'll always know what to expect.
✅ Quick Approval: Our streamlined financing process ensures you can enjoy your new package unit without delay.
📞 Contact Us Today: 📞
Ready to enhance your home comfort with a Rheem Package Unit? Our team of HVAC experts is here to guide you every step of the way, from selecting the perfect system to securing the right financing plan.
Don't miss the opportunity to experience unparalleled comfort and energy savings with the Rheem Package Unit. Contact us today to schedule a consultation and learn more about our financing options!
📞 Call us at [813-621-1985] 📞 
Elevate your home comfort to new heights with Rheem - because you deserve the best in HVAC technology!
BUY NOW, PAY LATER WITH SHOP-PAY
Pay your way
Choose interest-free payments up to 12 months, or pay with interest over 3 - 24 months.
CLASSIC SERIES RSPM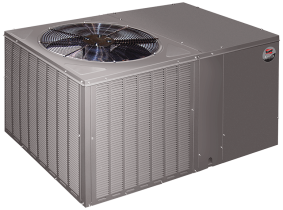 Durable Cabinet.

 

Our galvanized steel cabinet protects your Rheem unit from the elements, helping reduce maintenance expense. Our slim design occupies less room in your yard and installs with a flush fit against your home.
Serviceability.

 

Service time and expense are kept to an absolute minimum. Four service panels provide your technician easy access to all internal components.
Fan-tastic.

 

Our motor mount prevents damage to your fan motor, extending its service life.
Protective Barrier.

 

Each unit features full-louvered protection of the sensitive condenser coil, which keeps damage caused by accidental contact to a minimum, and adds to the longevity of your unit.
Heart & Scroll.

 

The heart of your Package AirConditioner is the compressor. That's why every Rheem unit features a Scroll® Compressor – widely recognized as the industry standard for performance and durability.
Low Corrosion. Low Sound.

 

Special base rails elevate the bottom of the unit off the ground and away from corrosive condensation. The combination of the durable cabinet, large outdoor fan, scroll compressor and elevated base pan all contribute to quiet, dependable operation.
BUY NOW, PAY LATER WITH SHOP-PAY
Pay your way
Choose interest-free payments up to 12 months, or pay with interest over 3 - 24 months.
Size Chart!
1.5 tons – 600 to 1100 square feet

2-tons – 901 to 1400 square feet

2.5-tons – 1201 to 1650 square feet

3 tons – 1501 to 2100 square feet

3.5 tons – 1801-2300 square feet

4 tons – 2101 to 2700 square feet

5 tons – 2401 to 3300 square feet 
View full details